We offer volunteering and service learning opportunities in a remote Himalayan ethnic village Gre. We have a fixed date volunteer camp + hike on May 5-17, 2020, or you can request to volunteer at a time, length and itinerary convenient for you.
We can create a custom itinerary and program for you: let's discuss how many days it would be optimal for you to stay and volunteer/ learn at Gre and whether you would like to go on a hike from Gre.
Hiking options are numerous. 1) You can take a 7-day hike in Langtang area, going to Langtang, Kyangin Gompa, with the highest climb to Kyangin Ri (4773m / 15655 ft). 2) Seven more days will take you to the holy Gosaikunda lake (4,380 m/ 14,370 ft). 3) Or you can just do a 5 day hike from Gre to Gosaikunda lake. Talk to us about options!
SERVICE LEARNING CAMP + HIKING MAY 5-17, 2020
Get ready for the most unique and authentic adventure of your life!
You can live and volunteer in a small ethnic (Tamang) village in the Himalayas in Nepal and hike the mountains around, with a highlight of the Gorgeous and SACRED Gosaikinda Lake at 14,350 ft high. PLUS you'll get to celebrate a unique Jatra festival with the villagers (https://www.facebook.com/events/2772297769480299/)
STORY: Some time ago we together with friends were hiking Himalayas,
and stayed in a small gorgeous Tamang village called Gre. Tamang is a Nepali ethnic group, residing predominantly in Langtang in the Himalayas.
In April 2015 Nepal was hit by a devastating earthquake, Langtang area was affected the most! Sadly, some people in GRE village still lived in temporary shelters, when we came. But the hospitality and friendliness that was offered to us was so heart-warming.
So we decided to support our new friends and together with a local non-profit we started running programs to help villagers establish cultural homestays in their homes to host travelers and thus generate income for the village (and thus preserve their culture).
And now we are starting volunteering programs in Gre + hiking!
Come make a difference! Here's the itinerary:
DAY 1
Arrival to Kathmandu
Sightseeing
DAY 2
Half day sightseeing Kathmandu (lots to see, Buddhist and Hindu Temples, Royal sq, the only living Goddess in the world Kumari, etc)
Orientation and workshop to prep for the volunteering
DAY 3
7-hour jeep ride
2 hour hike to Gre village
DAY 4-7
Volunteering in Gre village, living in cultural homestays
Program will include teaching English classes at a local school (kids and adults, especially homestay owners), waste management/ recycling program
Plus we will celebrate a local festival
And the program includes a service learning element for you, as participants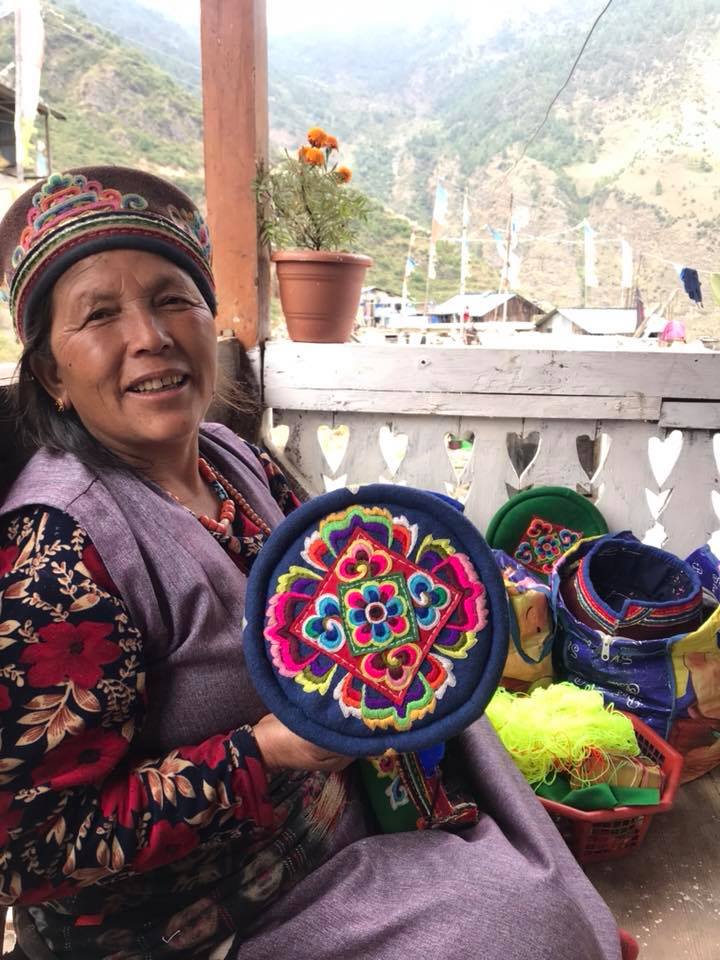 DAY 8
Trek from GRE village to Thulo Syabru village (2,230m/7316ft), 6 hour [10 km distance]
The stretch of the trail today comprises some good experiences of cultural riches in the region and, of course, the natural beauty is not to be missed. Overnight at tea house.
DAY 9: Trek to Lauribina (3910 m/12828.08 ft), 7 hours. [7 km distance]
Spectacular views: Ganesh Himal range, Langtang and also Manasalu. Passing villages and Buddhist Gompas
DAY 10: Lauribuna to Gosaikunda (4,380 m ) to Lauribina ( 3,910 m/12828.08 ft). 8 hours. [9 km distance]
Day 11: Lauribina to Dhunche . Overnight at hotel. (7 hours ) [10 km distance]
The trail leads to the western side of Gosaikunda Lake and passing through same trail to Dhunche village..
Day 12: Drive back from Dhunche ( 1,960 m) to Kathmandu, overnight at hotel .
Day 13: Departure
OBJECTIVES OF OUR VOLUNTEERING IN GRE
Importantly we see this not only being beneficial to the villagers, but also – even more so tbh – to the volunteers, hence we are even more prone to call it "service learning" (bc you learn just so much first hand)
1) Help ORGANIZE workshops/ programs:
– hygiene and hygienic cooking;
– English classes.
2) Help ESTABLISH safe, sustainable business practices for the benefit of all
3) Help ATTRACT travelers to introduce this emerging destination to the world (teach social media tricks, together come up w a strategy…)
I guarantee, you'll never forget Gre village and Langtang:)
Please DM for price and details.
Price includes:
All accommodation (hotel in Kathmandu, homestay at Gre, trekking houses during the trek)
Food in Gre (3 meals a day) and during the hike (so just no lunches and dinner in Kathmandu)
Jeep to Gre
Pickup and drop off at the airport
All materials needed for volunteering in Gre
Professional guide and assistant guide
About Gre Village: